Earlier last month, I opened our revenue dashboard to discover that we hit a sweeeet SaaS revenue milestone – $4 million ARR.
Here's why it's so surreal for all of us: we added the same revenue in last 1 year v/s in the previous 5 years.
It took us 5 years to go from 0 to $2 million ARR. (2012-2017)
It took us 1 year to go from $2 million to $4 million ARR. (2017-2018)
Just like how I shared my learnings on hitting $2 million ARR, here are some lessons that I learned from hitting $4 million ARR. It's a mixed bag of lessons touching operations, strategy, culture etc.
1. Building a function specific marketing team
In any early stage startup, you need folks who can wear multiple hats. In B2B marketing, it's folks who can write, make data-driven decisions, are good at research & take project ownership and get s*** done. But as you grow as a company and you begin to understand the marketing channels that work for you and will probably be the cornerstone channels driving your growth over the long term. When a marketing channel has expanded to that big of a project, you need specialists to take care of it. People who've devoted their entire careers on that subject and know the technical details to scale that channel.
That's probably why in the last 1 year, we've gradually restructured our marketing team and transitioning from a team of generalists to a team of specialists.
I'd like to add a note that generalists are still important at any stage of the company. You always need folks who have a broader understanding of all channels and these are the people who're great at leading marketing for a new product or a new marketing project or to figure out the next growth opportunity. In fact, we're looking for a generalist at Hubstaff right now.
From a marketing operations perspective, we had to really think about how to organize our marketing team with specialists. Here are some marketing organisation structures that we considered:
Should we divide responsibilities by channel? – Each team member is focused 100% on a specific marketing channel. For example, someone owns social media, someone owns marketing communications, someone manages our SEO, someone handles CRO – across our suite of products. We had been running this kind of a marketing organisation before the restructure and although it did work for a good 3 years – it wasn't working that well for us based on our present requirements.
Should we divide responsibilities by stage of funnel? – That would mean we'd have a team for acquisition, conversion & retention. Hubspot is a great example of a company that follows this philosophy to their advantage. However, we didn't move forward with it because it just didn't make sense for us. We would require a larger team & KPI structuring would be difficult.
Should we divide responsibilities by project? – We'd have a team where each team member was a specialist in their area and they were all assigned projects around their area of specialisation. For example, our resident social media manager would work on improving our social media engagement & audience, our blog manager would be managing blog CRO & content calendar, our SEO specialist would be responsible for better search rankings of our feature pages etc. Each project owner can use some time from each of these specialists and thus everyone's managing and doing the work all the time. We chose this.
How is how our marketing team is structured right now:
Illustrator
Copywriter
SEO specialist
PR / Social Media Manager
Director of Marketing (someone who's lead growth for another SaaS to about 6x our current revenue)
Marketing Developer
Content Marketer
Customer Success Lead
Marketing Manager (me)
Marketing Analyst / Digital Marketing Manager – we're hiring for this role right now.
How it helped us grow to $4 million:
Each team member in our marketing team was brought on because they're experts in a certain field and know more about it than anyone else in the team. Everyone's a specialist and we're here to let them run free with their knowledge and expertise.
That has allowed us to really double down on the channels that are working for us and explore these channels much deeper than what we ever imagined. For example, we had no idea how much better graphics can improve your chances in partnering with bigger brands because you come across as a professional company.
Talking about long term marketing channels that work for you and investing in them, this is my second lesson:
2. Thinking long-term – where do we see ourselves 5-10-15 years from now?
The goal of the marketing team of any company is to ensure that 100% of the market is aware about the existence of your product & get as many of these prospective customers to try your product. After that, it's really the product team's job to ensure these folks get enough value out of it to start paying.
But there will be a point in time where any company reaches their existing market size and they need to look beyond that to keep growing. It happened with us too.
We reached a point where we were already in the top 3 products in our market and pretty much everyone in our market knew about Hubstaff. We were being considered in most product purchase decisions in our market. However, from a growth team's perspective, it meant that there were fewer SEO growth opportunities, ads weren't as effective etc. We needed to expand into a bigger market if we wanted to keep growing.
From 2012 to 2017, we were laser focused on being the best time tracking software for agencies & remote teams. That is where majority of our customers exist even today. But that also meant, we had to turn away a lot of potentially great customers from different industries (you can't win them all, can you?). However, we still managed to get a sizeable amount of customers from relatively different industries (vs our main segment) who've been using our product for over 2 years. This is despite the fact that our product wasn't really built to fulfil their industry's requirements.
That's when we decided that we need to think about our future over the long term. Expanding into closely related markets was the logical next step for us. But we had questions to answer and these were some of the many questions we asked ourselves:
How do we expand into different markets?
Which markets should we expand to?
Which is the most closely related market to our product's existing features?
Which market has the biggest opportunity for expansion?
What is the overarching vision to all of this expansion? What kind of a time tracking software do we want to be known for 5-10-15 years from now?
We explored multiple markets, interviewed/collected feedback from hundreds of customers from these industries, did some market analysis (search volume, competitors, biggest problems etc.) and decided on 10 markets which would be logical next markets to expand to. I'm currently leading this project.
How it helped us grow to $4 million:
Now, a lot of SaaS companies decide to go the enterprise route to grow bigger. You know, build the software to cater to large enterprises as well and become a sales-heavy organisation. However at Hubstaff, we've never really had a sales team in the past. We've always been a marketing heavy team because most of our customers are SMBs and if we were to go the enterprise route, we'd have to build a sales team from scratch. As a bootstrapped company, we're always conscious about where and how we want to spend our money best and building out a sales team immediately and going the enterprise route didn't feel like a cost-effective decision right now (we will eventually have to target enterprise customers, but now is not the right time for it).
That's why we decided to expand to small businesses in other industries where we wouldn't necessarily need a heavy sales team, but just enough to experiment with it. A couple of months back, we hired our first customer success team member and I'm really looking forward to see how he tackles sales for us (we tried it before, but it didn't work).
Ultimately, a commonly agreed vision across the team is that we want Hubstaff to be a time tracking software for all businesses eventually. That's the vision that is now driving all our product, marketing & support decisions.
Recommendation – Read this book if you're trying to figure out how to become a market leader.
3. Increased focus on building a professional brand
As our company grows bigger and is expanding into newer markets, our no. 1 priority is to look like a more professional brand. We want to build stylish pages with kickass copy and beautiful graphics – eventually come across as a brand that bigger companies could trust.
Branding was never a priority previously so we never really seriously invested in it. However, over time, we've realised the importance of right branding, messaging and positioning for a company. For example, if a small unheard project management company approaches NASA and a company like Trello or Asana approaches them, who would NASA trust more for their project management needs? They'll choose the bigger brand because they trust them more.
While there is no direct ROI that you can track from branding projects, it definitely allows us to better serve our customers by becoming
easier to understand,
pleasant to look at
more approachable as a company.
For example, check out our brand new demo video (compare the difference with our older video).
So what did this brand overhaul look like? Some major items:
We are redesigning our landing pages.
We're improving our copy across our site (main site, blog, product) to make it easier to understand.
We're building more stylish product videos (like the one above).
Our blog got a makeover (design, content strategy, illustrations).
We're producing less content, but the quality of each piece is pretty high now. We're also doing more industry studies & white-papers.
Recommended reading:
If you'd like to understand the effects of branding better, read this brilliant piece by Netflix's former brand manager.
4. Keeping our strategy small & focused
As we're maturing as a company, it's a lot less stressful now than what was probably a year or two years back. There are three reasons for it:
Not everything is a do or die situation for us – Right now, if a particular investment doesn't work for us, that's okay. Our company won't shut down, unless it's a major bet gone wrong.
We're investing for the long-term – Earlier our strategy used to be what is driving ROI today and focusing 100% of our time on that. Today if we know a strategy requires long-term commitment but will definitely show great results in the long term, we are comfortable investing in it. This wasn't the case earlier.
Our strategy is smaller & more focused than ever. We tackle just 7-8 marketing projects every quarter and make sure we get them done with quality & thought.
Even though our team is 50% larger than a year ago, we're getting lesser projects done and it's a great thing. It allows for a focused, stress-free environment where we can let our thoughts flow freely. That's an amazing position to be in.
If there's one thing I can advise you on building your own small & focused marketing strategy – just pause and reflect on your top 20% and follow the 80/20 rule. Identify the top 20% strategies that bring in 80% results and double down on them. It'll only take a couple of hours every month and it'll make you so much more clear headed with where you need to focus your efforts on. You'll start pulling off 30-40 hour weeks with better results than ever before.
Here's how we do it on a weekly basis.
Recommended reading:
The 80/20 Principle by Richard Koch
5. Remote team culture is a big priority now
Today, our team is the biggest it has ever been. We're now 43 people spread across 15 countries so it's also the most spread out. Ironically, the team is closer than ever though. We're talking between each other more, we're collaborating more, we're doing more informal work banter and we're more united as a team that ever before.
However, our team becoming more united wasn't accidental, but carefully orchestrated. In the last 1 year, we've invested heavily in improving our remote team's bonding and collaboration. Here are some of the many initiatives we took:
Employee happiness & wellness is one of the top KPIs of our CEO (Dave) now. We measure employee happiness and wellness levels using various ways. We use this tool called Officevibe to get everyone's feedback on how the company is helping the team grow, helping them grow professionally etc.
Building a culture development team – We built a culture development team who's core focus is on keeping employee happiness high. We know that the real key to employee happiness is recognition, reward, feedback, personal growth & wellness. While we haven't nailed each one of those items, we're slowly progressing there. The culture development team consists of Hubstaff team members who've been at the company for a long time.
We introduced quarterly all hands meeting – Every quarter, we have an all-hands meeting where Dave gives us a high-level overview of what went good and what we could've improved on. We discuss complex business issues like rising revenue churn or determining hiring requirements. These calls have such a radical transparency, that I often feel lucky to be working with such a company.
Transparency as a core cultural value – Transparency has always been one of our core company values since the beginning. Today we emphasise it even more strongly in Hubstaff's team culture. We're building a culture of no judgement, transparent feedback across the company. If a team member is let go, Dave sends all of us a message with an explanation why that person was let go. If a team member is unhappy with something, they are encouraged to give their feedback in-person or anonymously (we prefer in-person because it's easier to take corrective actions then). If a manager is unhappy with the team member, they can let the team member know what needs to be improved/corrected etc.
Mandatory video calls – Ideally, we'd love all meetings to be video calls, but it's difficult to enforce that for all calls. So instead, we've made it mandatory for our team to get on a video call together once every month at the very least. The more video calls, the better it is.
Monthly 1-1s – Every team member in our marketing team has a monthly 1-1 with our Director of Marketing so they can discuss their performance, what they did right, what they can improve on and how they're growing in their professional career goals.
Employee recognition – This was one of the most powerful & easiest culture initiatives we implement. We created a #props Slack channel and encouraged to praise anyone went out of their way to help them, publicly. Our team then takes note of these names and sends them Amazon gift cards.
Yearly retreat – Spending time together in-person last year made us realise the importance of these team retreats in a remote team. We've now made it a yearly tradition and our next retreat is happening in Lisbon (Portugal).
How it helped us reach $4 million:
We're excited to be part of the team every day. We know the company cares about us, cares about our personal growth, gives us autonomy and ensures our wellness. The team knows they are the #1 asset of the company and they're important and their needs are the top priority of the company. When team members feel respected in the company, they're loyal to the company's mission and that allows us to spend more time working on our tasks than on hiring (because of low attrition rate).
Here's an example of the impact of this culture development initiative – A team member's wife was recently diagnosed with Stage 3 cancer. Our team got together and contributed a sizeable pool of money to support his family financially, even though most of us have never met him in person. When you build such team bonding (even if everyone works remotely), just imagine how unstoppable the team can be.
Recommendation:
Invest in an employee feedback tool. OfficeVibe is a great option and it has a 100% free plan.
6. Honey-pot marketing
This was a marketing channel we had been looking to explore since the early days of Hubstaff. In the past, we have built many resources to generate leads/customers for Hubstaff. These could be in the form of content upgrade in a popular blog post, a calculator, a mini-tool etc. While these "honey pots" did generate some great leads & customers for us, it still wasn't big enough that we could build the foundation of our long term marketing strategy on.
In 2015, when we came across Unsplash's success story and we had SEVERAL discussions about building our own honey pot product. We delayed implementing it because it was be a costly project and we wanted to be sure that we're financially sound to risk such a strategy.
There were certain considerations we had to make before going ahead with this strategy:
How big is the market we're targeting? Is their potential for virality?
Will we get customers for our revenue-generating product in this market?
How much development time & resources will this honey-pot product take away?
Is there a big enough hole in the market that we could fill to our advantage?
In 2016, we launched a brand new product called Hubstaff Talent. A freelance platform that's truly 100% free. No fees, no middlemen. Freelancers & companies are connected with each other – they choose their own payment terms, their communication medium etc. We are just a mediator.
In the last 18 months, Hubstaff Talent has grown from 0 to 50,000+ freelancers. 500+ jobs are posted on the platform each month & 4000 freelancers start a profile each month.
Our aim was to build a product that could have mass adoption and open our software to a big audience. With the growth of Hubstaff Talent, we've seen us enter the freelancing market. Here's how we drive revenue out of this 100% free platform:
We drip email all our users and educate them about Hubstaff time tracking.
We advertise Hubstaff time tracking on our platform's pages.
We have integrated Hubstaff time tracking widgets inside Hubstaff Talent product.
Our aim is to build a marketing channel that drives us revenue every month without having to spend much time on it. Today, we get about 30+ paying customers each month from this platform, so the platform pays for itself at the moment.
Considering our LTV is $600 per customer, that's $18,000 added to our revenue each month and it's projected to grow as the platform grows and we keep optimising our funnels.
Recommended reading:
How side projects saved our startup
Onwards into our journey to $10 million+ ARR
It's been a great run so far, but we're an ambitious team. In the next 18 months, our goal is to go from $4 million to $12 million ARR. (2018-2019). We're excited about achieving this goal and totally up for this challenge.
It's been a great journey and every day I feel so grateful to tackle the challenges we face running our remote marketing team. I'm passionate about remote marketing because of the great benefits associated with it. Earlier this year, I decided to take up a long-term mission:
Make co-located marketing teams, location independent.
Today, I've made some progress towards that mission. I run a newsletter with 200+ company founders who're building their own remote marketing teams. I even work personally with a handful of them to build those teams. I'd like to help more and more companies build better remote marketing teams and this site is going to be dedicated towards that mission. If you'd like to be a part of this journey, you can subscribe to my email list here. I'll touch base with you once a month.
Thanks for reading and see you around! 🙂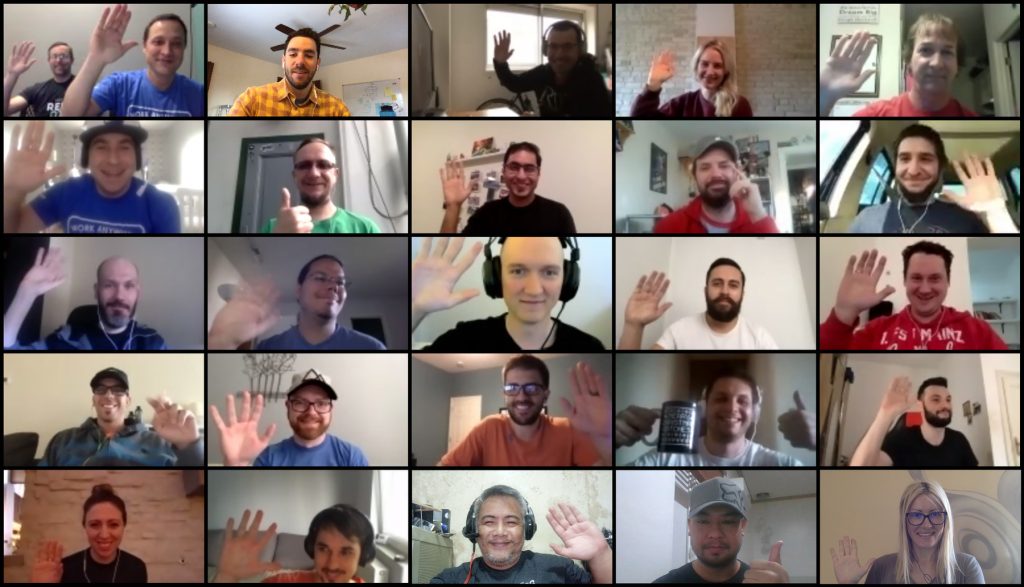 Note: The above lessons were implemented with a 100% remote marketing team.