I came across a blog the other day on why this entrepreneur started a conference and came across this advice from him:
"I know for a fact that I wouldn't have been put on the same trajectory if it wasn't for attending WD Summit that year and the 5 seconds of courage it took to introduce myself to Caleb and James. That's what conferences can do. Because that's what relationships can do."

Nathan Barry, ConvertKit
I follow Nathan Barry's work religiously. He has such a phenomenal story. From being a designer at a company, he's gone on to write his own book(s), build best selling courses & started a software company that makes $12 million+ annually. Oh and did I mention that he's just 27 years old.
That's probably the reason why I was so pumped after reading that post. Tons of people have told me that conferences can transform people's lives, because of the relationships & connections you make over there. You have to be outgoing, but you will potentially connect with tons of great people and it could change your life forever.
You'll find new business partners,
new consulting clients,
make new friends and/or
possibly find your own mastermind group
If conferences could make me meet such folks and make such collaborations happen, I'm all for it.
Except that…
Most conferences that I want to attend happen on the geographically opposite side of the world.
Each conference ticket costs an average $1000 (if not more).
Air-fare, lodging and everything else will set me back by another $3000.
Total damage = $4000
Is it worth it?
I've attended some conferences in-person.
Unfortunately, I found most of the networking there meaningless. You talk to someone, they'll ask you what you do, they'll tell you what they do, "We should totally partner someday", "Your business will transform using our product" yada yada and you're off to the meet the next person. At the end of the conference, your pockets are full of visiting cards of people you barely know and will never connect with in any meaningful capacity. That sums up my experience.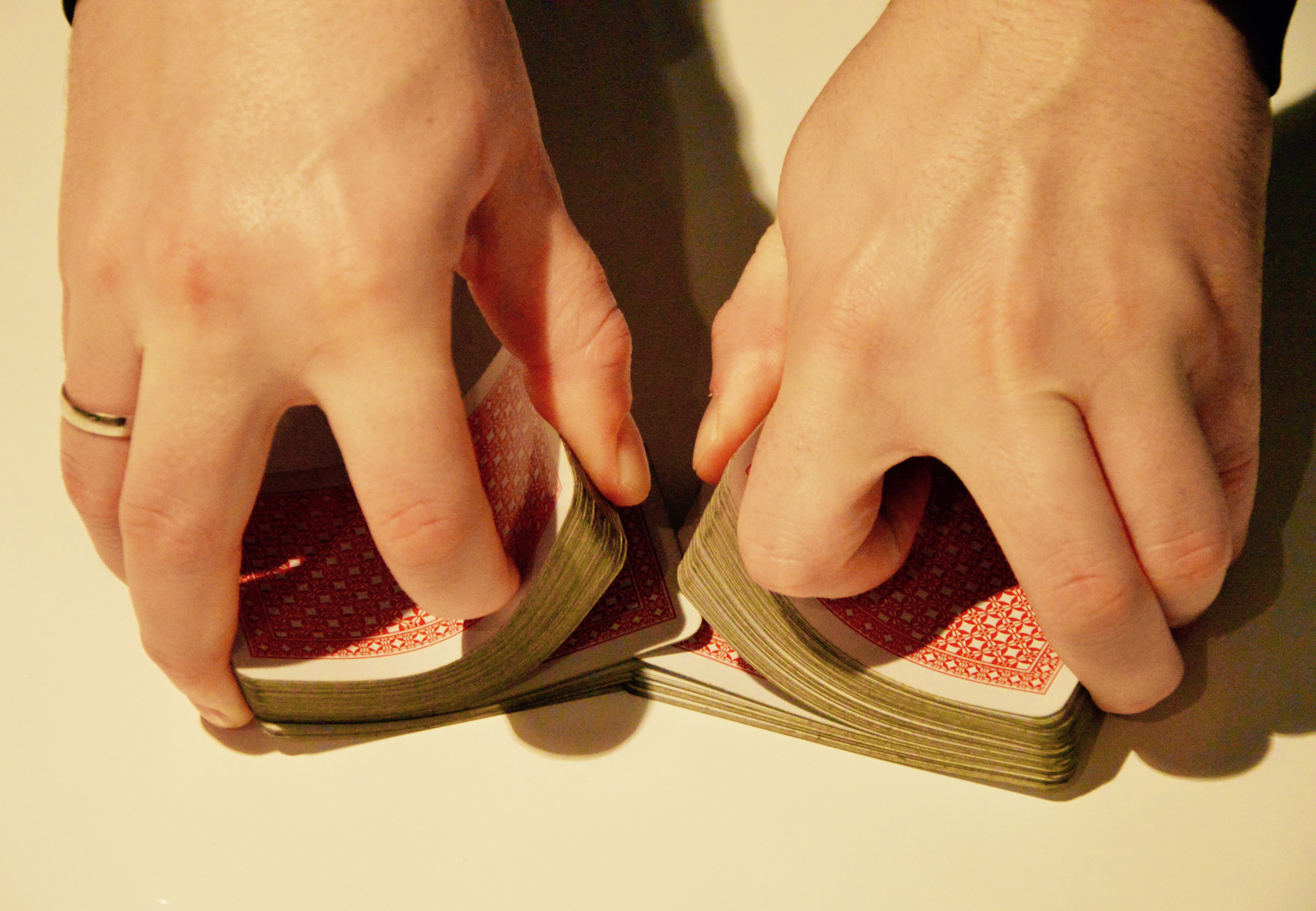 As someone who's bootstrapping his own side project, spending $4000 on a conference isn't viable for me. I'd rather spend $4000 on acquiring/servicing more customers than attending a conference every couple of months which may get me customers. It's just plain business logic.
How do I meaningfully network with people w/o burning $4000 every time?
I came across a tweet storm from Andrew Chen and this particular tweet got my attention: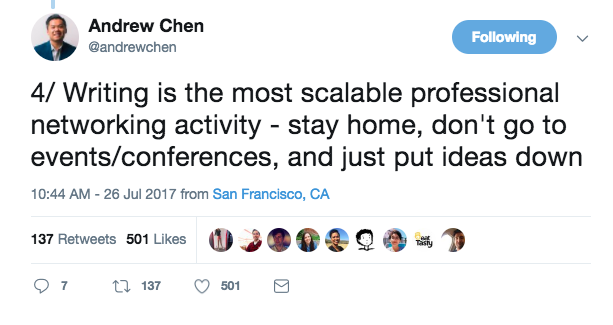 Andrew Chen is another person I admire deeply. He's one of those rare marketers who's built a solid network, where he both gives and receives tremendous value. And one of his biggest assets that built this powerful network today is his blog.
His tweet opened up a networking medium for me, that's possibly 10x, 100x, 1000x more effective and scalable than regular networking at conferences. More importantly, it triggered me to think about other professional networking mediums that I could leverage remotely.
4 stages of ANY networking (in-person or remote)
If you look back at any professional connection you made at a conference, you kept in touch with them majorly via email, calls & social media. It seems like the conference is a meeting platform for all of us where we exchange contact details, then stay in touch through social networks/emails etc. and then potentially explore opportunities of working together.
I'll repeat it again – the conference (which costs $4000) has been our major meeting platform for networking until recently.

What if we start thinking creatively around meeting points? How can we make those meeting points virtual?
Remote networking
Thanks to the internet and the growing network of remote workers, we're seeing more people meet online. Today, especially in the SaaS world, we meet more people online on FB groups, LinkedIn, Slack, community forums, blogs than offline. Folks who have never met in-person are now:
Opening their professional networks to each other
And they met without spending a single penny on visiting conferences. That's the power of networking remotely. It's laser-targeted, economical & effective.
How to network virtually? Where do I start?
Here are some remote networking mediums that have worked for me
Blogging (this has been my #1 remote networking channel). This is especially easier now with AI writing tools on the rise (read my review about CopyAI).
Email introductions via someone you know
Engaging with someone on social media – twitter, linkedin, fb, quora
Being part of a community – sub-reddits (video of Imgur CEO talking about why online communities are so powerful), FB groups (eg – SaaS growth hacks), forums, self-created mastermind groups
Attending a virtual conference
All these alternatives are free. Thanks to the Internet, online networking is more powerful, economical than ever & equally effective as networking in-person (if not more).
Embracing remote networking & it's impact on me
I'm a sporadic writer – I write only when I have something of value to share. Through my 10-15 articles, I've been able to remotely network with several people in my industry without ever attending an expensive conference myself. But I've discovered other interesting remote networking mediums as well so I thought it'd be fun to share:
1. Email introductions
When a consulting client introduced me to someone.
2. Connections via social media
When I found myself a consulting client over Twitter DM chat.
3. Support channel!
When I networked remotely with someone over a support channel (!!).

And he eventually shared my podcast episode.
4. Blogging – When I connected with over 300+ folks via my blog newsletter
4 years back, I started writing.
3 years back, I built an email newsletter with my personal connections – as a way to stay in touch.
Today, over 300+ subscribers happily get that newsletter, send me nice messages and offer high paying consulting contracts:
Writing is definitely the most scalable remote networking medium.
5. Good old email
When I closed a research partnership with a big SaaS company (Buffer). All I did was send an email with an offer that they couldn't refuse (put simply, offer more value than we'd receive).
6. Sending cakes never goes out of fashion!
When I closed many business development deals with integration partners via cakes. For over 3 years, these partnerships used to bring in 10-15% of our company's revenue.
7. Virtual conferences
Today, there is a growing list of 100% remote conferences happening globally. In marketing, here are some that I know of:
Here's what a virtual marketing conference organiser said:
Conferences are awesome. And they suck. Everyone loves growing in their career—but no one loves spending $5,000 and a week of their time to learn a little, but mostly just be sold to.

Since money, travel, and endless vendors are the worst things about conferences—we decided to make ours 100% free, 100% virtual, and pitch free. Last year 10,000 people from all over the world heard 18 marketing experts talk about how they sell online.
Join virtual conference sessions, connect with the speakers later on social media explaining how it helped you & voila! – you have another great remote networking channel. Here's an example:
Bottom line: There are innumerable amount of meeting points to network with someone remotely. You just need to keep yourself open to such a possibility and give more value than you hope to receive.
How do I stay in touch with my remote networking relationships?
90% of networking effectively is actively staying in touch.
All the relationships I've built have helped me build a network of my own that I value and am very grateful for. I've met with 300+ brilliant professional connections, all thanks this remote networking strategy. If you're wondering how I stay in touch, here are some ways:
1. Send postcards
I feel we lack certain human-ness when networking with people (remember the last time you exchanged business cards with someone?). Postcards are a great way to stay in touch with folks and keep the interaction human. This is the postcard I sent to Dave Nevogt (founder of Hubstaff.com) when I was in New Zealand earlier this year.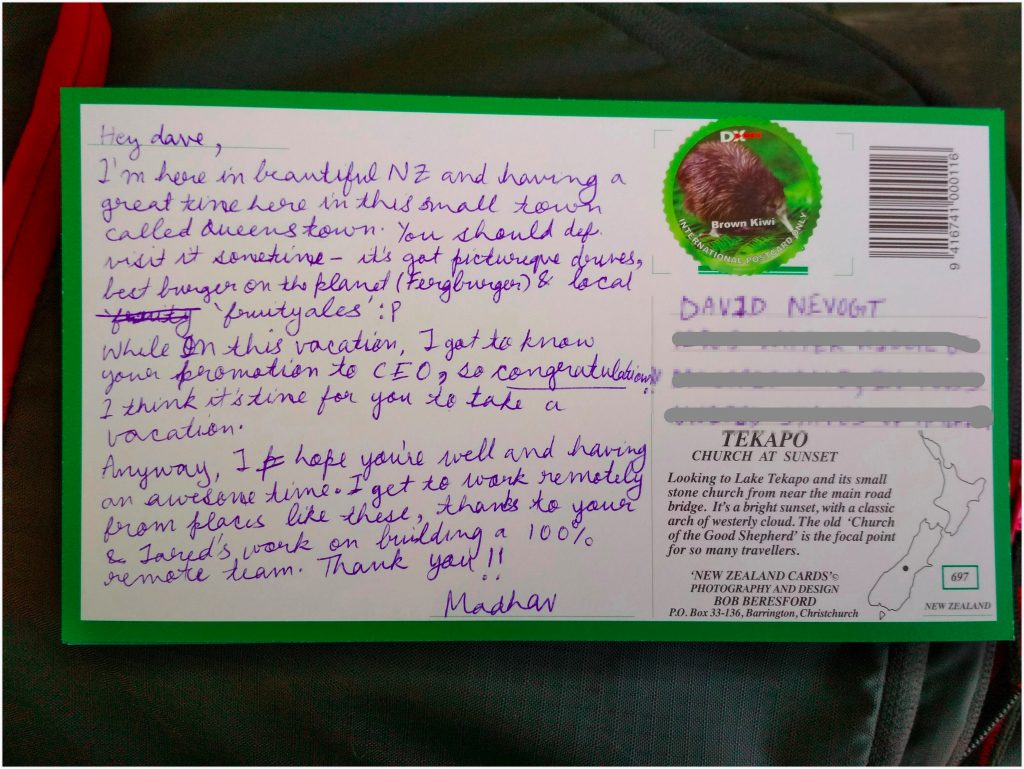 2. Monthly email where I try to give value
I got this idea from Brennan Dunn's guide on starting a freelancing business (Read Step 2).
Every month, I send a personal email to my network with useful resources, my thoughts on remote marketing, articles like this etc. This email list has grown to 300+ professional connections today.
These are people sitting thousands of KMs away and I'm remotely connected with them. What a beautiful reality to be living in!
If you're wondering what my monthly emails look like, here's an example:
On a side note, how about you & I connect remotely as well? – remotemarketing.org/subscribe
3. Free help on demand
It's cliched advice but still 100% true & effective – give more value that you hope to receive. It's even easier if the connection comes to you with a problem that they have. In my case, every month a bunch of my professional connections message me for advice on issues they're facing in terms of marketing hiring, strategy, operations or remote team management. I try to help them as much as I can. Here's an example:
Concluding thoughts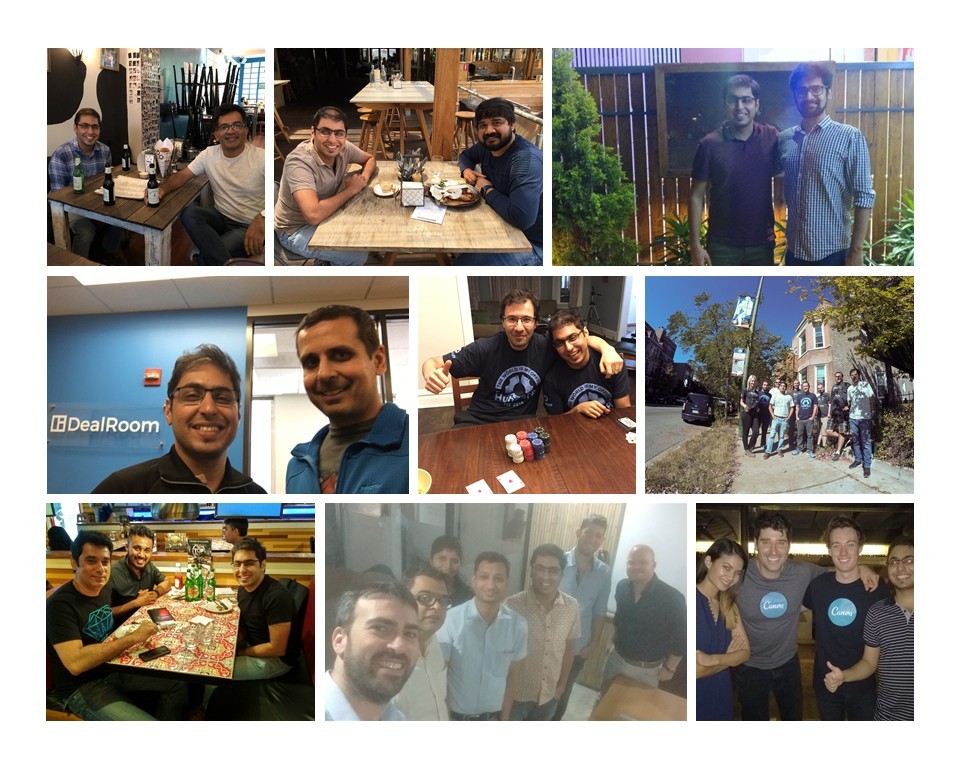 So here's my end thought to you.
Embrace remote networking.
I'm globe trotting all year long and often inform my network when I'm going to be in their city so we can have a hearty 1-1. I invite you to be a part of my network & get access to other remote CMOs, CEOs, marketing managers etc.
If you're ever in New Delhi, message me and I'd love to take you out for coffee.
Side note – I am in no way dissing the importance of networking via conferences, that is still an effective medium and it has been a useful networking medium for decades. I am just sharing a new kind of networking that's on the rise and how it can be leveraged by companies with remote teams & bootstrapped businesses. Conferences like this still keep me hopeful that you can make meaningful connections offline too (if done the right way).